News 02 Factory Viet Nam EN
Appeared smart factory trend in Vietnam
Germany is considered the country that initiated the industrial revolution 4.0 with the goal of creating fundamental changes in the global value chain of products and services.
There have been many digital factories built, among them the Siemens Electronics factory is considered one of the first models in the world for this trend. Here, machines and computers handled up to 75% of the value chain of products, people were only responsible for product development and start up the process.
In smart factories, machines connected to the internet and linked together through the system can visualize the entire production process and make decisions. According to Dr. Le Dinh Phong is in the field of robotics and automation (HCM City Hi-tech Park), the most important feature of smart factory is the connection.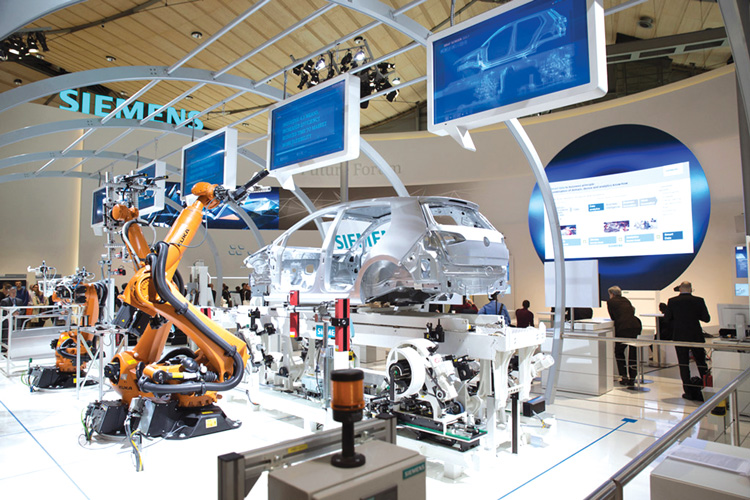 Machines, equipment, sensors, robots, data (from activities and business systems as well as suppliers and customers), human resources … connected to each other, from which can implementing smart and efficient processes in production. With new technology, all activities are optimized, reducing manual intervention with high reliability, the production process is transparent from the first to the last stage, from the factory to the supply chain, too user experience and distribution process.
With integrated and integrated networks built on the basis of the application of data collection and analysis technologies, smart plants create initiative, anticipate challenges and thus improve performance. better productivity and responsiveness to supplier fluctuations as well as customer requests.
According to experts, food, foodstuffs, consumer goods and garments are the areas with diversified products and favorable conditions for smart factories to apply and promote their superior properties. Vietnamese. However, at present, Vietnam's manufacturing industry is still in the stage of partial automation to the whole.
High-level automation plants are usually large brands, or foreign investments.
The trend of smart new factory investment in Vietnam, typically at Truong Hai Company (Thaco). In 2017, Thaco started construction of Thaco Mazda automobile assembly factory with a budget of up to VND 12,000 billion in Quang Nam, and Phase 1 of Thaco Mazda (about VND 7,000 billion) was operated in March.
According to Future Market Insights (FMI), the leading market information and consulting service provider, the global smart factory market is valued at US $ 51 billion in 2014 and is expected to grow at a rate of 13. , 3% per year until 2025.
The factory applies a production operating system on a digital platform, connecting to the factory-wide automatic lines with information throughout the value chain, from ordering to production. This enterprise has applied smart production methods (automobile assembly lines undertaken by robots), smart workshops, aiming to become smart factories.
Vinfast automobile production complex in Cat Hai Economic Zone – Hai Phong is expected to operate in the first phase by the end of this year, which is also considered a smart factory of Vietnam automobile industry. In order to operate the complex with a total investment of up to 3.5 billion USD, Vinfast signed with Siemens equipped with the latest technologies with a high level of automation, superior software with management and integration capabilities. comprehensive integration throughout the value chain (from conceptualization of design, product testing to planning and design of production lines, production management, logistics management, after sales).
In the beverage industry, Coca-Cola Company has also started building a smart factory. Since 2013, Coca-Cola has continuously invested in production lines with the most advanced technology. Ms. Pham Nha Uyen – Marketing Director of Coca-Cola in Indochina said, Coca-Cola will implement the smart manufacturing model in implementing the 4.0 industrial development strategy.
In particular, the factory applies information technology in production management, digitalization and synchronization of databases and smart sensor systems to control quality criteria, create closed production processes that will give born high quality products.
The entire production line is automated and controlled by robots. The warehouse system also applies smart technology, automatic import and export technology, and the transport management system integrating the global positioning system, making the transportation of goods more convenient.
Keeping up with the trend of smart factory development, Vinamilk also built Vinamilk Dairy Factory in Binh Duong – the largest and most modern dairy factory in Southeast Asia. Here, the production lines are fully automated and a warehouse with the entire process of robot-made finished products. These self-propelled robots will look for batteries that are fully charged to replace themselves when they realize they are running low on energy.
The application of technology has been put into practical production but according to experts, in order to achieve advanced production level like a smart factory, it is necessary to have a strong development process of lower facilities. floors, machinery and people. Currently, although the technology wave 4.0 has developed strongly, but because of many factors, the smart factory trend is only in Vietnam.
25/4/2018